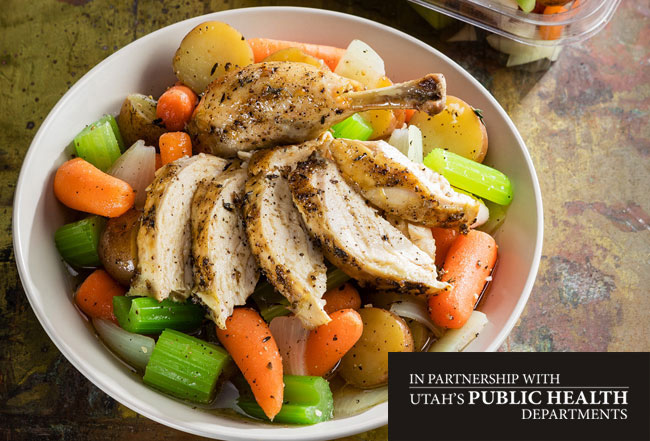 Lemon Thyme Slow Cooker Chicken
Prep: 15 minutesCook: 4 hoursServes: 8
Ingredients
2 garlic cloves, minced
2 tablespoons extra virgin olive oil
2 tablespoons fresh lemon juice
1 tablespoon lemon zest
2 teaspoons chopped fresh thyme plus 2 sprigs
1½ teaspoons kosher salt
¾ teaspoon ground black pepper
1 (4- to 5-pound) whole roasting chicken, giblets removed and discarded
1 lemon, cut crosswise in half
1 packages (about 2 pounds) AFS® Stew Mix
1 cup less sodium chicken broth
Directions
In small bowl, stir ½ the garlic, oil, lemon juice, lemon zest, chopped thyme, 1 teaspoon salt and ½ teaspoon pepper.
Pat chicken dry with paper towels; sprinkle remaining garlic, ½ teaspoon salt and ¼ teaspoon pepper inside cavity. Squeeze juice from lemon into chicken cavity; add lemon halves, ½ cup Stew Mix and thyme sprigs to cavity. With small piece of kitchen twine, tie legs of chicken together; rub chicken with oil-thyme mixture.
In 5- to 6-quart slow cooker, add broth, remaining Stew Mix and chicken. Cover and cook on high 4 hours or low 7 hours or until internal temperature of chicken reaches 165°.
Note from the Dietitian
The stew mix is an excellent source of vitamins A and C. This recipe contains 24g fat (49% of total calories) and 6g saturated fat (12% of total calories) per serving. The Dietary Guidelines for Americans recommend limiting saturated fat to no more than 10% of total daily calories. Limit saturated fats in other daily meals as part of a balanced approach to a healthy diet.
U.S. Department of Health and Human Services and U.S. Department of Agriculture. 2015 - 2020 Dietary Guidelines for Americans. 8th Edition. December 2015. Available at https://health.gov/dietaryguidelines/2015/guidelines/.
Approximate nutritional values per serving
442 Calories, 24g Fat (6g Saturated), 131mg Cholesterol, 594mg Sodium, 13g Carbohydrates, 2g Fiber, 4g Sugars, 0g Added Sugars, 42g Protein