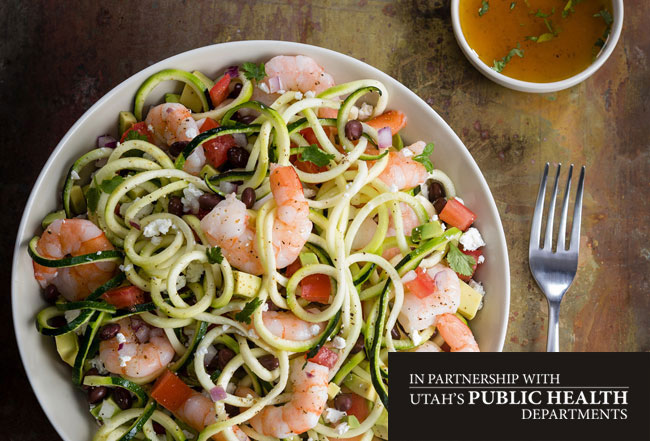 Sante Fe Zoodle Shrimp Salad
Prep: 10 minutesServes: 4
Ingredients
1½ tablespoons extra virgin olive oil
1 tablespoon chopped fresh cilantro
1 tablespoon red wine vinegar
¾ teaspoon ground cumin
½ teaspoon kosher salt
¾ teaspoon ground black pepper
1 package (16 ounces) AFS® Zoodles
1 can (15 ounces) no salt added black beans, drained and rinsed
1 package (12 ounces) cooked, tail off, peeled and deveined 31-40 shrimp, thawed if necessary
3 Roma tomatoes, chopped (about 1 cup)
½ small red onion, finely chopped (about ¾ cup)
1 large avocado, chopped
1/3 cup reduced-fat crumbled feta cheese
Directions
In large bowl, whisk oil, cilantro, vinegar, cumin, salt and pepper. Add Zoodles, beans, shrimp, tomatoes and onion; toss to combine. Fold in avocado and cheese.
Note from the Dietitian
Zucchini noodles are an excellent source of vitamin C and lower in carbohydrate and calories than most other noodles. Consider serving with a carbohydrate-based side or using this dish to balance higher carbohydrate meals in order to manage carbohydrate intake to about 60-70% of your daily caloric intake.
Approximate nutritional values per serving
391 Calories, 17g Fat (4g Saturated), 167mg Cholesterol, 587mg Sodium, 28g Carbohydrates, 11g Fiber, 6g Sugars, 0g Added Sugars, 33g Protein